Mission
To be a site for District and community events that are efficiently run in a pleasant and wholesome environment.
Vision
To provide a safe, aesthetically pleasing environment for the students of USD 501 and the Topeka community while experiencing life's lessons through sport and activities.
---
Staff
Annette Wiles
Sports Park Director, District Athletic Director
This email address is being protected from spambots. You need JavaScript enabled to view it.
785-295-3753
Aaron Becker
Maintenance Supervisor
This email address is being protected from spambots. You need JavaScript enabled to view it.
785-295-3754
Chelsea Canham
Concessions/Events Manager
This email address is being protected from spambots. You need JavaScript enabled to view it.
785-295-3752
Kirk Meier
Pool Manager
This email address is being protected from spambots. You need JavaScript enabled to view it.
785-295-3751
Debbie Ashmore
Administrative Assistant
This email address is being protected from spambots. You need JavaScript enabled to view it.
785-295-3750
Kiefer Stellwagon
Natatorium Coordinator
This email address is being protected from spambots. You need JavaScript enabled to view it.
785-295-3756

Scott Rice
Maintenance

Mathew Suprna
Maintenance

Alex Willetts
Maintenance

---
Letter from the Director
On behalf of of the Board of Education and Topeka Public Schools, welcome to our new website. Hummer Sports Park was made possible by the generous support of our district voters and taxpayers.
That support is supplemented by various contributors and donors. Hummer Sports Park is the culmination of the dreams, vision and determination of our board, staff and generous patrons. Heartfelt thanks to all who helped make this incredible facility a reality.
Hummer Sports Park is the crown jewel of family entertainment facilities in northeast Kansas—it's simply the best. Although primarily a student athletic destination, Hummer Sports Park is available for many community-based events. No other sport complex in the northeast Kansas 4-state area can match this multi-faceted facility. It's a superb sporting venue for athletes young and old, a green space for outdoor civic events and an indoor sanctuary for public and private meetings of all kinds. Hummer Sports Park is a sparkling example of a family-friendly entertainment complex and is destined to help our community shine.
So, whether you are an athlete, parent, performer, coach, student, fan, patron or donor, we hope you enjoy your experience at Topeka Public Schools' Hummer Sports Park.
Something magical is always happening at Hummer.™
---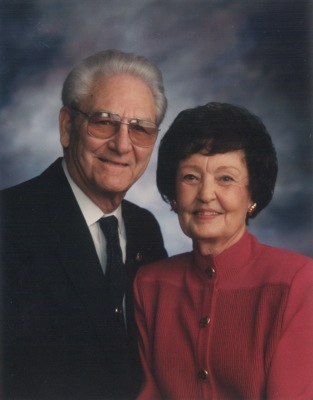 Dana and Louise Hummer
The Hummers, an all-American love story.
The story of Dana and Louise Hummer, the name behind the Sports Park, is the quintessential American story of love, happiness and success.
These two native Topekans loved each other for 63 years and were happily married for 59. They were a vital part of Topeka's civic, business and government life for more than half a century—a relationship that ended only with Dana's death in April of 2002. Louise passed in October of 2016.
Dana Hummer was born in Topeka in 1917, the son of Clayton and Elva Hummer. The fourth of eight children in Oakland, he found his life changed dramatically when his father died when Dana was 9 years old. His mother sent Dana and two brothers to an orphanage in Manhattan. He lived at the Oddfellows Hall until he was 15 before returning to Topeka.
Louise Lungstrum came from an East Topeka family. She was the second of 13 children born to Frank and Lena Lungstrum. At 19, Louise was an instructor at a dance studio at 7th and Quincy Street in downtown Topeka—known as the Egyptian Ballroom. A shy, yet dashing Dana Hummer was one of her students.
The two began dating and in 1943 were married in Aiken, S.C., not far from where Dana was stationed in Augusta, Georgia, as a member of the Army Air Corp.
Daughter, Nancy HummerIn six months Dana received overseas orders. Louise returned to Topeka while Dana went to Naples, Italy, and North Africa during World War II. After the war, he returned to Louise and Topeka to resume his career in law enforcement and life of service to the community. He eventually became Chief of Police in 1963, a post he held until he retired a decade later.
As police chief, Dana Hummer initiated several important programs. He began the department's helicopter program in 1971, the chaplain program and the bomb disposal unit. He introduced hand-held radios for police officers and purchased the first computers for the police department.
Dana started the "ride-a-long" program, which offered Topeka youth (and adults) opportunities to learn first-hand what policemen do on a daily basis. The ride-a-long program eventually led to a Junior Police program for young people, and Explorer programs about police work.
The 60s were turbulent times in the nation and in Topeka. Louise remembers them as difficult years. During Dana's tenure as police chief, the city suffered two major blows. In 1965, the Kansas Avenue Bridge collapsed. Then came the devastating Tornado in June of 1966, that ripped through Topeka, inflicting millions of dollars in damage to homes, businesses and Washburn University.
Dana and Louise as a young coupleAs police chief during the 60s and early 70s, Hummer was faced with a protest walkout by Topeka High School African-American students over the issue of black history. Racial tensions were high across the nation, and Topeka was no exception. Dana was faced with keeping law and order, while at the same time trying to be fair to all citizens, regardless of race.
With all of Dana Hummer's achievements, Louise was always there, sharing in the successes and the failures, the joys and the tragedies. They worked side by side through it all. Her love and encouragement were not lost in his success. "He used to tell me that I was 'the wind beneath his wings,'" she remembered.
What would having Hummer Sports Park named in their honor have meant to Dana?
"He would have been very proud and humbled," said Louise. As for her, she thought it was "great."
"This park is a wonderful addition to Topeka," she said. "I know it will benefit young people in this city for many years to come."
Hummer Sports Park will serve as an important sports venue for Topeka and many of its athletes in years to come. It will also stand as a lasting tribute to one of Topeka's great stories of love and success.
---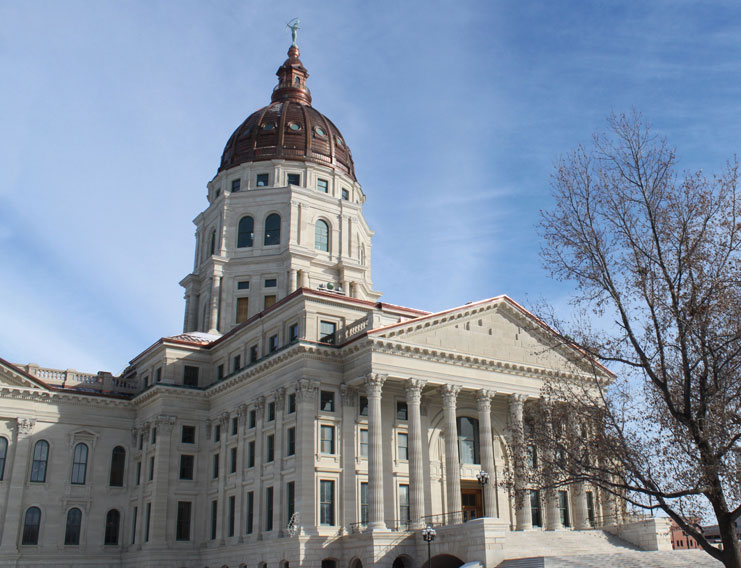 Topeka Area Information
Learn More About Our Capital City!
Hummer Sports Park is centrally located in Topeka, Kansas and managed by Topeka Public Schools.
Click here for a new video tour of Topeka.
For more information about the Topeka area and the great state of Kansas, use the links below:
Thank you for your interest in Hummer Sports Park. We look forward to seeing you!
---
Hummer Sports Park Rules
No outside food or drink may be brought in to facility

No Coolers

No bicycles, skateboards or roller skates

No pets

NO SMOKING

No guns allowed on school property

Therapy dogs will be allowed only with appropriate tags and attire